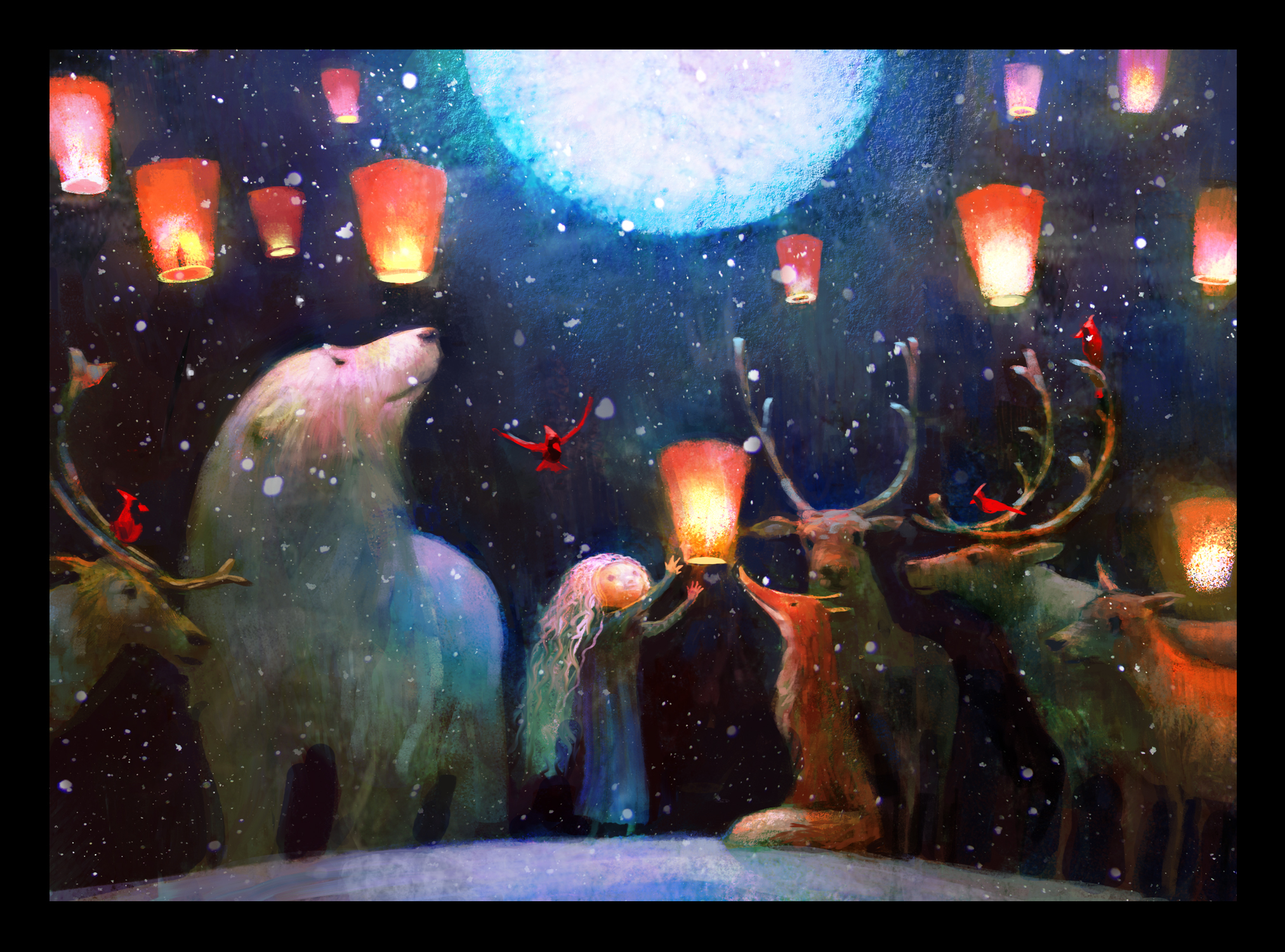 Our 2013 Christmas Card Collection: The Moon's Daughter
Now translated into Russian by Olga Cherezova and Polish by Izabela Kubinska 
The annual Pure Art holiday cards have arrived, offering a special way to connect this holiday season. Looking for something a little different to share?
New this year comes the story of the "Moon's Daughter" beautifully illustrated in 6 creative cards from a local artist. It is a story of compassion with a gentle reminder to embrace all living creatures and the whole of nature in its beauty. Share with family and friends while you give the gift of education to children in Peru.
By purchasing cards from this program your kind contribution provides the privilege of education for young students in the Amazon town of Pucallpa, Peru.
Importantly, 100% of funds raised through this "One School for All" initiative will go directly to provide uniforms, shoes and school supplies, permitting school attendance in the poorest of communities.
Through your generous support of this program you become an integral part of an ever-widening circle of compassion and contribute directly to the Pure Art Mission of breaking the circle of poverty.
Purchase your cards now, and discover the magic of the Moon's Daughter!
Dans cette collection inédite, un artiste de la région vous présente l'Enfant de la Lune en six tableaux empreints de poésie et de compassion. La plume y prend son envol à travers un récit qui s'anime au rythme de toutes les créatures vivantes et des fresques de la nature. En partageant cette merveilleuse histoire avec vos proches et vos amis, vous offrirez du même coup une place à l'école aux enfants du Pérou.
Acheter les cartes Pure Art, c'est permettre à de jeunes écoliers de poursuivre leur éducation dans la ville amazonienne de Pucallpa, au Pérou. Fait à souligner, les fonds générés par cette initiative – L'École pour tous – servent intégralement (100 %) à l'achat d'uniformes, de chaussures et de fournitures scolaires, donnant ainsi aux enfants de cette communauté vivant dans la pauvreté extrême la chance d'aller à l'école.   
En soutenant ce projet, votre geste de générosité va loin. D'une part, vous jouez un rôle de premier plan au sein du cercle grandissant de la compassion et, d'autre part, vous participez directement à la mission de la Fondation Pure Art qui vise à éliminer le cercle de la pauvreté.
Procurez-vous vos cartes dès maintenant et vivez l'enchantement de l'Enfant de la Lune! Au nom de tous les membres de la Fondation Pure Art, nous vous disons merci du fond du cœur pour votre participation et votre soutien!
THE MOON'S DAUGHTER                                 L'Enfant de la Lune
For Zöé                                                                Pour Zöé
Written by: Liam McKinnon                                 Texte: Liam McKinnon
Illustrated by: Sebastian McKinnon                     Illustrateur: Sebastian McKinnon
Russian:   Лунная Девочка
Polish:  Córka Księżyca
She had many names. Some were ancient, as old as the trees and the sleeping stones, and there were those we cannot pronounce. Others could only be heard in the silence of falling snow. But amongst the ones who knew her, she was known as the Moon's Daughter.
Elle avait plusieurs noms.  Des noms aussi anciens que les arbres et les pierres endormies et d'autres noms que seul le silence de la neige pouvait révéler. Mais pour ceux qui la connaissaient, elle était l'Enfant de la Lune.

У неё было много имен.Одни имена настолько старинные, словно уснувшие деревья и камни, и другие – которые только снежная тишина могла произнести. Но для тех, кто знал ее – она была Лунная Девочка.
Miała wiele imion. Niektóre były stare, tak stare jak drzewa i śpiące kamienie. Niektórych zaś nie można było wymówić. Jeszcze inne można było usłyszeć tylko w ciszy padającego śniegu. Pośród tych jednak, którzy ją znali uchodziła za Córkę Księżyca.
She moved on earth with the grace of the wind, leaving mystery and wonder wherever she passed. With every step, she left a wish. A wish for the world, a wish for her friends, a wish for nature's beating heart.
Légère comme la brise, l'Enfant de la Lune laissait derrière elle des traces mystérieuses et des paroles enchantées. Le vent emportait ses souhaits au rythme de ses pas : un souhait pour le monde entier, un autre pour ses amis et un autre encore pour mère Nature.

Легкая как морской бриз, Лунная Девочка оставляла за собой таинственные следы и волшебные слова. Ветер уносил её пожелания в ритме её шагов : одно пожелание для всего мира, другое – для её друзей и ещё одно – для матери-Природы
Poruszała się po ziemi z lekkością wiatru, pozostawiając za sobą powiew tajemnicy i zdziwienia, gdziekolwiek nie przeszła. Z każdym krokiem pozostawiała życzenie. Życzenie dla świata, dla przyjaciół, życzenie dla bijącego serca natury.
The Moon's Daughter illuminated the dark corners of the forest. With the help of her friends, she lit up the trees. She read the stories in their wrinkled trunks and hummed along to their wisdom. Beneath her touch, every tree felt special, and they glowed with the gentle strength of dreams.
Sur son passage, même les coins les plus sombres de la forêt s'illuminaient. Avec l'aide de ses amis, l'Enfant de la Lune accrochait aux arbres des milliers de perles de lumière. Comme de vieux sages tout ridés, les troncs d'arbre lui racontaient des histoires et des légendes. À son toucher, les arbres ressentaient leur essence et ils offraient au ciel et à la Terre la force et la douceur de ses rêves.

На её пути даже самые тёмные закоулки леса наполнялись светом. Вместе со своими друзьями, Лунная Девочка подвешивала на деревья тысячи жемчужин света. Словно сморщенные старые мудрецы, стволы деревьев рассказывали ей истории и легенды. От ее прикосновения деревья приобретали жизненную силу и передавали небу и Земле силу и нежность её мечтаний.
Córka Księżyca rozświetlała ciemne zakątki lasu. Z pomocą przyjaciół rozświetlała drzewa. Czytała historie w ich pomarszczonych pniach i nuciła w rytm ich mądrości. Pod jej dotykiem każde drzewo czuło się specjalne i wszystkie rozświetlały się pod wpływem delikatnej mocy marzeń.

And everywhere she went, she went as one with the earth. She felt the snow and sang with the birds. She connected the thousand individuals that moved alongside her.
L'Enfant de la Lune aimait voyager et découvrir le monde. Elle accrochait son cœur à celui de tous les êtres qu'elle rencontrait pour qu'un jour la Terre devienne une boule d'amour géante.  Elle sentait la douceur du flocon de neige qui venait fondre sur son nez et fredonnait avec les oiseaux leurs plus belles mélodies. C'est ainsi que l'Enfant de la Lune créait, un pas à la fois, la formule magique qui avait le pouvoir d'unir tous les êtres sur sa route.

Лунная девочка любила путешевствовать и узнавать мир. Она открывала свое сердце каждому, кто втречался на её пути, чтобы однажды Земля стала огромным шаром любви. Она чувствовала лёгкость и нежность снежинки, таявшей на её щеке и напевала вместе с птицами самые лучшие их песни.Так Лунная Девочка, шаг за шагом, создавала магическую формулу, имеющую власть объединять все существа на её пути.
Wszędzie gdzie szła, szła w jedności z ziemią. Czuła śnieg i śpiewała z ptakami. Łączyła ze soba tysiące istnień, które wędrowały razem z nią.

And she forgot no one. Not the silent ones, or the distant ones.
Not the misunderstood or the overlooked or the lonely. And for the few she could not reach, she carried them in her endless heart, and blew prayers to them from the mountaintops.

L'Enfant de la Lune n'oubliait personne, pas même les êtres incompris, oubliés ou abandonnés. Pour ceux qui ne croisaient pas sa route, debout, sur les plus hautes montagnes de la Terre, l'Enfant de la Lune leur récitait ses plus belles prières.

Лунная девочка не забывала никого, даже тех кто был отвергнут, забыт или брошен. Для тех, кто не пересекал её пути, Лунная Девочка произносила молитвы, стоя на вершинах самых высоких гор.
O nikim nie zapomniała. Ani o cichych, ani o dalekich. Ani o niezrozumianych, ani pominiętych, ani samotnych. A tych kilku, do których nie mogła dotrzeć, nosiła w swoim nieskończonym sercu i posyłała im modlitwy z wierzchołków gór.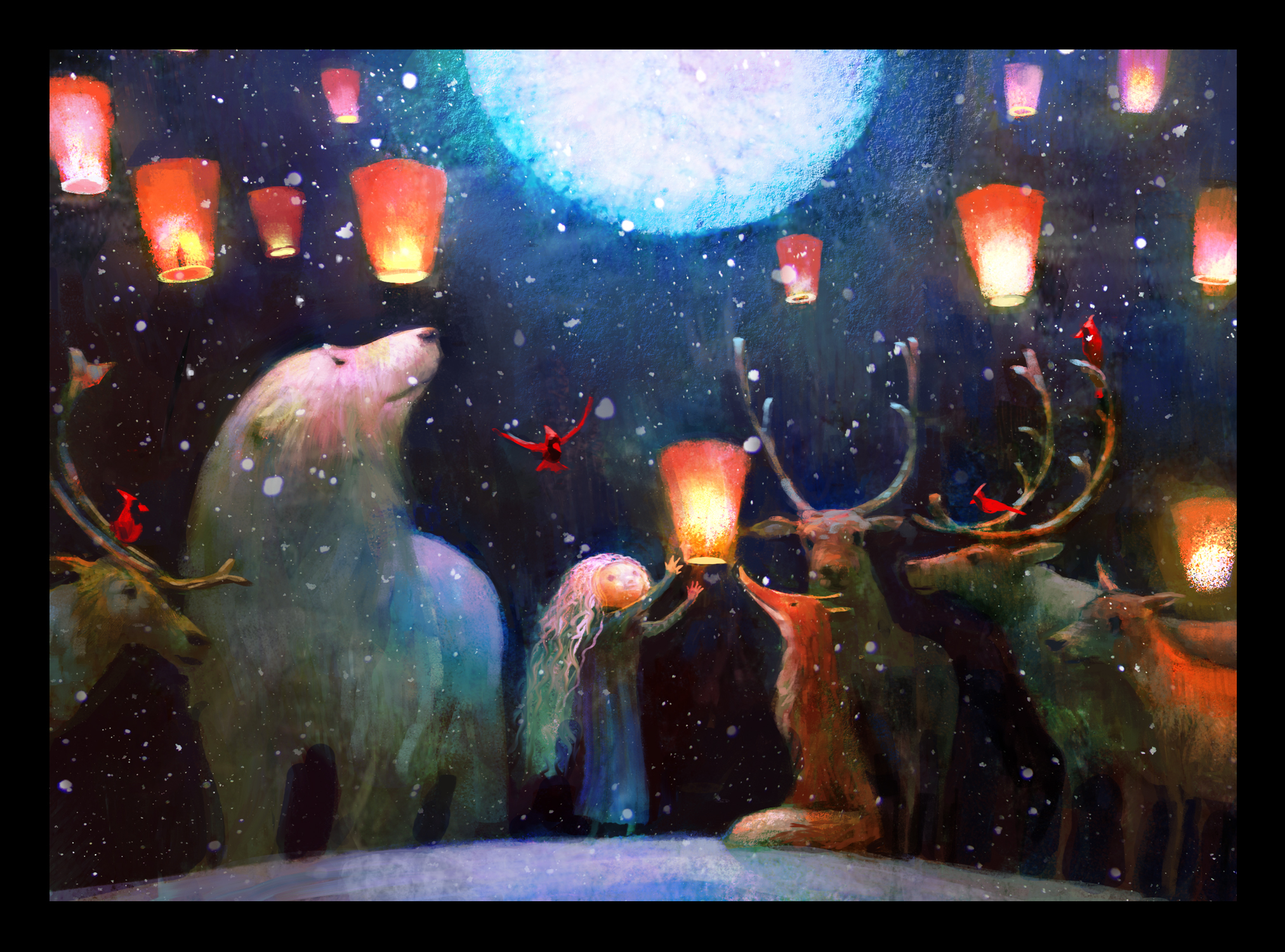 But when night fell, the Moon's Daughter stood with all her gathered friends, and looked up at the sky. She gazed up at the infinity that stretched out above her, and the humble beauty of the stars was reflected in her eyes. Up into the depth of forever, she sent her last wish and her last light, to her Father Moon, sleeping peacefully in the midnight sky.
Sous une nuit étoilée, L'Enfant de la Lune, le regard plongé dans les profondeurs de l'Univers, envoya un dernier souhait et un dernier rayon de lumière à son papa Lune, lui qui dort pour toujours dans le ciel de minuit.
Под покровом звёздной ночи, Лунная Девочка взглядом, погруженным в глубину Вселенной, послала своё последнее пожелание и последний луч света своему отцу-Луне, который навсегда уснул в полуночном небе.
Ale kiedy nadeszła noc Córka Księżyca stanęła ze wszystkimi przyjaciółmi, zgromadzonymi wokół niej, i spojrzała w niebo. Wpatrywała się w rozciągniętą nad nią nieskończoność a skromna uroda gwiazd odbijała się w jej oczach. W górę i w głębię nieskończoności wysłała swoje ostatnie życzenie i ostatnie światło w stronę Taty Księżyca, spokojnie śpiącego na nocnym niebie.
BUY your cards now and give the gift of education to children in Pucallpa, Peru.
LEARN MORE